I haven't posted since the 4th! My exciting news consists of a Fun Run we had at work on Tuesday. We were divided into pairs, and given clues like a scavenger hunt. Each clue direction us to a station where we would have to complete an activity to advance to the next station. My partner was a 50 something year old gentleman who has had a heart attack in the past. I thought for sure we'd have to hustle, but nothing too exerting for him . Boy was I wrong!! He was so into this contest, he was booking it all over the place! In the below picture I was laughing so hard because he was running and I could barely keep up!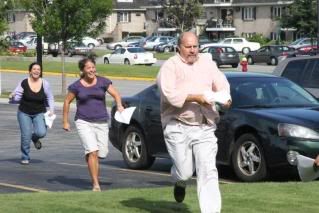 We had so much fun and ended up coming in 2nd place!!

Now I prepare for my road trip to Massachusetts, my first car ride alone over 3 hours!! I am actually really excited and off to the library right now get books on tape!! Woohoo!!